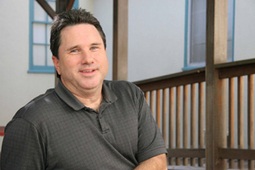 In a painless clinical procedure performed on a patient with electrodes temporarily implanted in his brain, Stanford University doctors pinpointed two nerve clusters that are critical for face perception. The findings could have practical value in treating people with prosopagnosia — the inability to distinguish one face from another — as well in gaining an understanding of why some of us are so much better than others at recognizing and remembering faces.
In a study published Oct. 24 in the Journal of Neuroscience, the scientists showed that mild electrical stimulation of two nerve clusters spaced a half-inch apart in a brain structure called the fusiform gyrus caused the subject's perception of faces to instantly become distorted while leaving his perception of other body parts and inanimate objects unchanged.
The surprised reaction of the subject, Ron Blackwell of Santa Clara, Calif., is captured in a video made during the procedure. "You just turned into somebody else. Your face metamorphosed," he tells the researcher in the video.