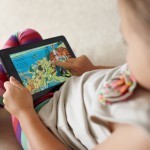 Amazon introduced four new devices to the world yesterday, one made specifically for multimedia and each at an attention-grabbing low price.
**Three new Kindle e-readers and the Kindle Fire tablet will connect Amazon more closely with content and consumers than ever before.
The company is careful not to call the Kindle Fire a tablet, however, preferring to position it as a new class of Kindle to avoid confusing it with laptop-replacement devices like Apple's market dominating iPad.
**For $199, the Kindle Fire (pictured) delivers the user's choice of over 100,000 streamed, downloaded, rented or purchased movies and television shows from Amazon Instant Video.
**It's also integrated with the unlimited commercial-free streaming service that comes in the Amazon Prime package, which costs $79 a year (discounted for students, child caretakers and certain other consumer categories), which would make accessing and watching that content a fairly seamless process.
**It can also multitask, making it possible to listen to music while leafing through magazines for instance. Books, music, graphic novels, magazines and newspapers from the Kindle store obviously work with the Kindle Fire.
**Additionally, Amazon has a selection of the most popular Android apps and games, filtered for compatibility with the device, and offers one paid app for free each day. Under the hood, the Kindle Fire has 8 Gb of memory and a Gingerbread foundation.
http://www.dmwmedia.com/news/2011/09/28/amazon-heats-up-the-fight-for-mobile-audiences