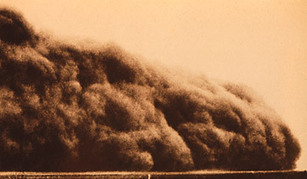 The most visible evidence of how dry the 1930s became was the dust storm. Tons of topsoil were blown off barren fields and carried in storm clouds for hundreds of miles. Technically, the driest region of the Plains – southeastern Colorado, southwest Kansas and the panhandles of Oklahoma and Texas – became known as the Dust Bowl, and many dust storms started there. But the entire region, and eventually the entire country, was affected.
The Dust Bowl got its name after Black Sunday, April 14, 1935. More and more dust storms had been blowing up in the years leading up to that day. In 1932, 14 dust storms were recorded on the Plains. In 1933, there were 38 storms. By 1934, it was estimated that 100 million acres of farmland had lost all or most of the topsoil to the winds. By April 1935, there had been weeks of dust storms, but the cloud that appeared on the horizon that Sunday was the worst. Winds were clocked at 60 mph. Then it hit.
"The impact is like a shovelful of fine sand flung against the face," Avis D. Carlson wrote in a New Republic article. "People caught in their own yards grope for the doorstep. Cars come to a standstill, for no light in the world can penetrate that swirling murk... We live with the dust, eat it, sleep with it, watch it strip us of possessions and the hope of possessions. It is becoming Real."
The day after Black Sunday, an Associated Press reporter used the term "Dust Bowl" for the first time. "Three little words achingly familiar on the Western farmer's tongue, rule life in the dust bowl of the continent – if it rains." The term stuck and was used by radio reporters and writers, in private letters and public speeches.
In the central and northern plains, dust was everywhere.