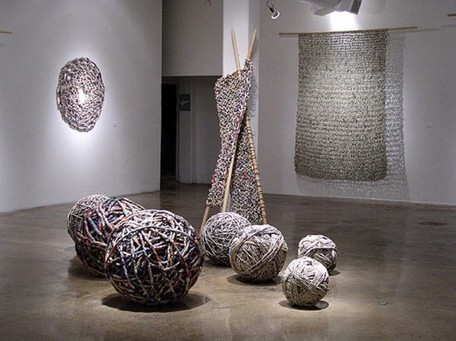 The so-called

"trashion" movement

started long before sustainable fashion was

en vogue

, and

Ivano Vitali

, of all people, should know. After all, the Italian artist dabbled in mammoth-size tapestries made from

castoff newspapers

, plastic bags, eggshells, and aluminum foil as early as 1974. Three decades years later, Vitali devotes his attention almost exclusively to

recycled newsprint

, which he tears into strips and skillfully twists into balls of yarn without the addition of glue, coloring, or silicone. Using humongous custom-made wooden needles and hooks—some as long as 8 feet—Vitali knits and crochets the unconventional fiber into garments that are as functional as they are theatrical.