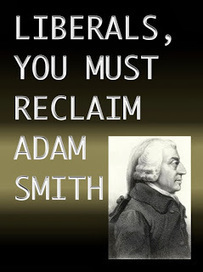 Liberals should with agility reclaim the "First Liberal" -- Adam Smith -- and hammer their opponents with him! It is the one move that would take them utterly by surprise, winning over millions of moderates and small businessmen. Try saying this:
"We like competition and open-flat and fair markets! They are the wealth generators that then enabled us to take on great projects like education and science and helping the poor. The real destroyers of that healthy version of capitalism were denounced by Adam Smith, and by the American founders -- monopolists and secretive cheaters, and those who would be lord-owners of everything. Getting rich by innovating new goods and services in a truly competitive market? That's great! Grabbing everything through cartels of cheaters? That is what Smith and the Founders denounced.
"So stop listening to paid shills pushing a return to feudalism! Come negotiate with us over how to keep it all open and healthy and competitive... and so productive that we can take on the countless challenges ahead."