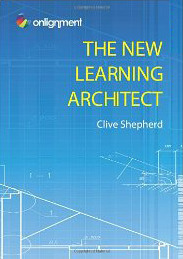 Clive Shepherd's latest book, The New Learning Architect, starts out where many books for training professionals end. It responds to the learning dilemma of the 21st century, "There is more to know than can possibly be taught."
He builds his thesis around the idea that instructional designers and training professionals will need to become learning architects, people who design environments for learning—similar to the way architects design environments for living and working.
In addition to the more traditional skills of understanding requirements, audience characteristics, content and learning constraints, it is crucial for the learning architect to stay current with instructional research and the latest technologies. It is this type of critical knowledge that can turn an order taker into an innovator who can fulfill any learning requirement.