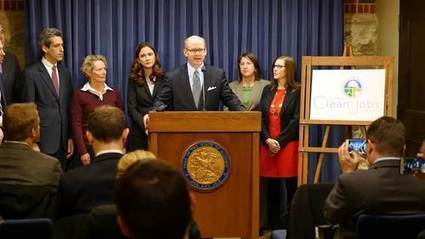 This week two seemingly unconnected announcements were made that will likely cast a big shadow over the state of Illinois for some time. Wednesday, Governor Bruce Rauner gave his first State of the State address. In the speech he outlined Illinois' grave economic position and repeatedly highlighted a desire to push new policies that will make the state more competitive and create jobs.

The same day, a new coalition was announced that could help make his wish come true: the Illinois Clean Jobs Coalition.

At events in Springfield and Chicago, this unprecedented coalition of business interests, organized labor, interfaith groups, consumer advocates, and environmental groups announced shared goals to embrace clean energy and new job creation under a united banner. NRDC is a proud member of the coalition--and we think that looking at the state's energy economy is the perfect place to start to realize Governor Rauner's goal of making Illinois competitive. The coalition believes that some key policy tweaks will open the job flood gates to the tune of 32,000 jobs annually!

And we are not alone.

In Chicago, Mayor Rahm Emanuel threw his support behind the coalition's goals to grow the state and city's economy by creating new jobs in the clean energy industry, saying it is a "win-win for our environment and economy."

In Springfield I joined a similar announcement in the State Capitol with legislative leaders of the Illinois General Assembly, along with business partners and environmental colleagues who had a very similar message.

State Senator Don Harmon (D-Oak Park) summed up what was said by a labor leader from the buildings trades unions who stood at the Chicago event, saying, "This coalition is about three things - jobs, jobs, jobs."
Click headline to read more and access hot links--