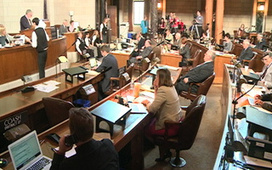 Climate scientists asked lawmakers to require the Nebraska Power Review Board to consider health, water and economic factors when deciding which power sourcesto use.
Malcolm Sen. Ken Harr said on Friday he wants the Legislature's Natural ResoucesCommittee to commission an in-depth study on the power generation issue.
State utility companies collaboratively opposed the measure, while 18 people supported it.
Coal provides more than 70 percent of electric power generation to Nebraska residents, according to 2011 data from the U.S.EnergyInformation Association.
Former meteorologist John Pollack says lawmakers should reduce coal reliance and shift to renewable energies, like wind and solar power. He says climate changeis real and shouldn't be ignored.