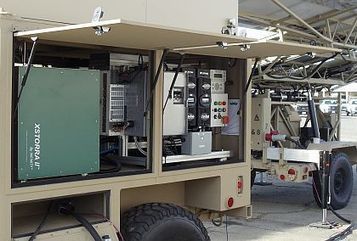 Military renewable energy experts in the U.S. Navy are testing a trailer-mounted regenerative fuel cellsystem that could save money and warfighter lives, Navy officials say.
The Naval Air Warfare Center Weapons Division at China Lake Naval Air Weapons Station in Ridgecrest, Calif., are evaluating a system that consists of a fuel cell and an array of solar panels that can be towed behind ground vehicles and generate about 5,000 Watts of electricity.
The fuel cell is an energy producing device that takes hydrogen in as its fuel, and through an electrochemical reaction, makes electricity. The only by-product of the process is water and heat. Electrolysis, running a current through water, produces hydrogen and oxygen. This system stores the hydrogen and then feeds it back into the fuel cell.
Click headline to read more--