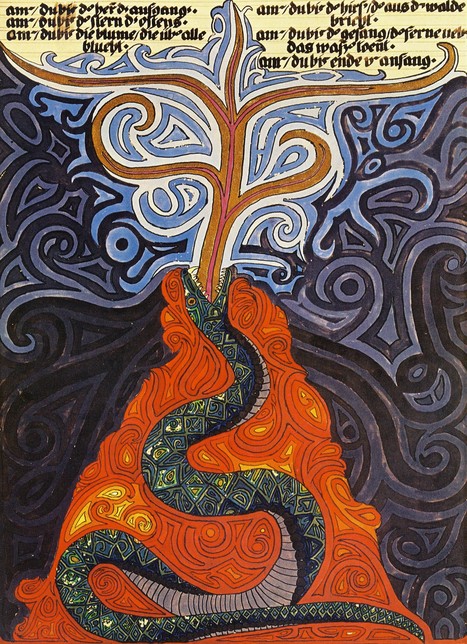 SATURDAY, MARCH 5, 2016. THE C.G.JUNG CENTER OF NEW YORK 28 EAST 39th STREET, NEW YORK, NY
This event is co-sponsored by the C.G. Jung Institute of New York (www.junginstitute.org). The New York Association for Analytical Psychology (http://www.nyaap.org), The C.G.Jung Foundation of New York (http://www.cgjungny.org), The Archive for Research in Archetypal Symbolism(http://aras.org), and The Analytical Psychology Club of New York (http://jungclubnyc.org).
From February 29th to April 1, 2016, the Salena Gallery of Long Island University-Brooklyn will host an exhibition of the Digital Fusion prints (theredbookprints.com) from Jung's Red Book. These magnificent 25x33 inch reproductions of Jung's paintings made their art world debut at the 55th Annual Venice Biennial in 2013, where the original manuscript of the Red Book was on display. All conference participants are cordially invited to the Opening Reception on Friday evening, March 4, 6:00-8:00 P.M. at the gallery at One University Place, Brooklyn (www.facebook.com/liubrooklynart).
CONFERENCE SPEAKERS:
* Ami Ronnberg (keynote) National Curator at ARAS - "The Transforming Snake in Jung's Red Book"
* Fanny Brewster, PhD, MFA Jungian Analyst (NYAAP) - "Wisdom of the Feminine Serpent"
* Michael Conforti, PhD Jungian Analyst (NYAAP) - " When the Gods Grow Weary: Archetypal Transitions of a New Order"
* Sanford Drob, PhD Core Faculty, Fielding Graduate University - "Black Snake/White Snake: Snakes and Serpents and the Reconciliation of the Opposites in Jung's Red Book"
* Sarah Jackson, MFA, MA Jungian Analyst (NYAAP) - "Situating Jung's Scaly Creatures in an Art Historical Context"
* Ann Chia-Yi Li, MA Jungian Analyst (AGAP) - "The Golden Flower that Blooms in The Red Book, a Daoist Alchemical Interpretation of the Dragon Images"
*Ilona Melker, LCSW Jungian Analyst (NYAAP) - "Snakes in the Visions of Christiana Morgan, the Veiled Woman in Jung's Visions Seminars"
*Hallfridur Ragnheidardottir, MA in Icelandic Literature - "The Snake, the Dragon, and the Menstruating Womb"
* Evans Lansing Smith, PhD Chair/faculty of Mythological Studies Program, Pacifica Graduate Institute - " A Modernist Nekyia: Jung's Myth of Analysis and Transformation"
* David Solem, MSW, MA Jungian Analyst (NMSJA, IRSJA) - " Befriending, not Becoming, the Dragon"
REGISTRATION AND PAYMENT OR TO MAKE A DONATION VIA EVENTBRITE: WWW.snakesanddragonsnyc.eventbrite.com
Fee for the conference is $100. $150. after January 15.
Early registration is recommended, as space is limited.
For questions, please email snakesanddragonsnyc@gmail.com