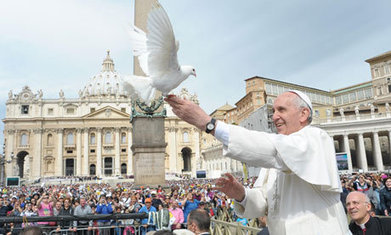 Pope Francis has hit out at unbridled capitalism and the "cult of money", calling for ethical reform of the financial system to create a more humane society.
In an impassioned appeal, the Argentinian pontiff said politicians needed to be bold in tackling the root causes of the economic crisis, which he said lay in an acceptance of money's "power over ourselves and our society".
"We have created new idols," he said in a speech in the Vatican. "The worship of the golden calf of old has found a new and heartless image in the cult of money and the dictatorship of an economy which is faceless and lacking any truly humane goal."