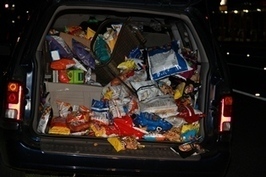 OCALA, Fla. - Deputies said Marion County brother and sister Darren L. Hagerman 25, and Jessica L. Huggard, 22, were spotted riding in a blue Ford van on Highway 40 in Ocala Thursday night and pulled over when a deputy saw a 2-year-old jumping in the backseat.
According to the report, the deputy found the van packed with Frito-Lay chips during the traffic stop. When asked where the chips came from, Hagermen said he and his sister take the chips as a way to generate income.
The deputy found that Hagerman had a master key that worked on the gate lock at the Frito-Lay factory, according the report. It appears Hagerman doesn't work at the factory...
(click pic to continue reading)