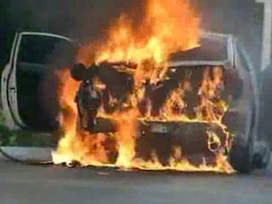 DAYTONA BEACH, Fla. -- A Florida woman is accused of intentionally setting her car on fire at a gas station and then sitting in the middle of a Daytona Beach highway, claiming to be God.
All that's left of 29-year-old Alexandra Barnes' Scion is charred remains.
"She came behind the counter and grabbed the yellow lighter and ran out the door," clerk Edna Sandrus said.
"All the sudden, she grabbed the lighter out of her car, and hit the lighter and the car just went up. It was just lit up into flames, like 15 different barbecues going on, huge into the sky," witness Fred Kelley said.
Larry Romero saw the whole thing from the business next door..
And says his co-worker jumped into action when Barnes started screaming.
"She said her babies was in the car, so he ran back to the car -- it was actually dogs, grabbed the dogs out the car and then ran back to the street, got her because she was sitting in incoming traffic," Romero said. "She sat down in the middle of US92, wanting a car to hit her she said something about she was god..."
(click pic to watch video)