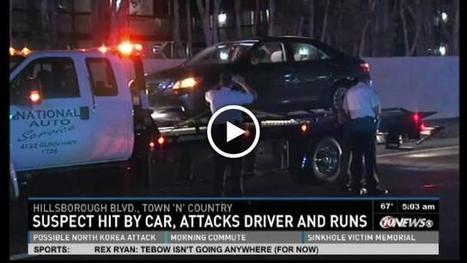 Tampa, FL - A man who was struck by a car while crossing the street is facing charges after deputies say he attacked the driver who hit him.
The Hillsborough Sheriff's Office says the pedestrian was walking across Hillsborough Avenue near Longboat Boulevard when he was hit around 1 a.m.
The driver of the vehicle got out of his car to render assistance, but the pedestrian responded by beating him up, burglarizing the vehicle and firing a gun into the air. He then climbed over a six-foot wall to get away.
Hillsborough deputies were able to catch the suspect at a nearby apartment complex. The suspect, who has not yet been identified, was treated for his injury and taken to an area hospital. The driver of the vehicle was also taken to the hospital for his injuries after he was beaten up...

(click pic to watch video)