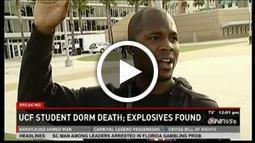 ORLANDO, FL - UPDATE: According to the UCF twitter page, "The explosive materials have been rendered safe and will be removed from campus by noon."
Hundreds of students have been evacuated from a dorm on the University of Central Florida campus in Orlando after explosive devices were found while authorities were investigating a death.
UCF spokesman Grant Heston said a body was found in a bedroom in a dorm. While police were investigating, they also found an assault weapon and improvised explosive devices in the room, he said.
University police were called to the dorm around 12:20 a.m. Monday after a fire alarm went off, Heston said. While they were on their way to the scene, a 911 call came in about a man with a gun.
Police found the male dead from what appears to be a self-inflicted gunshot wound. It was not immediately clear if the male is a student.
The dorm, called Tower 1, is a residence hall for about 500 students. Students have been evacuated and a parking garage was closed...
(click pic to watch video)