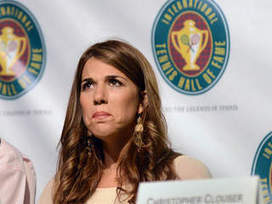 (CNN) -- Former tennis star Jennifer Capriati is batting down accusations -- which led the North Palm Beach police department to seek an arrest warrant -- that she stalked and punched an ex-boyfriend.
An incident occurred on February 14, Valentine's Day, at the Oxygen Health & Wellness gym in North Palm Beach, Florida. A report from that southeastern Florida community's Police Department said the ex-boyfriend claimed Capriati "started screaming" at him before punching him "with a closed fist four times in the chest."
The 28-year-old accuser, Ivan Brannan Jr., said he was eventually able to lock himself in the men's locker room, according to the police report. Four days later, he went to police headquarters and outlined what he said were "seven other incidents pertaining to Capriati stalking/harassing/following" him. Brannan said he'd dated the American tennis player from May 2011 to February 2012.
North Palm Beach Police subsequently requested an arrest warrant against the 36-year-old Capriati, the department's Aubre Stroud said Saturday. As of that time, no arrest warrant had been issued -- something the state attorney's office would decide...


(click pic to continue reading)