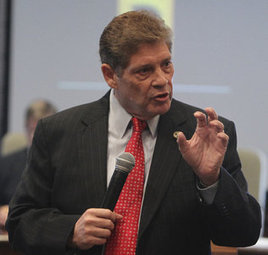 Bal Harbour Police Chief Thomas Hunker, the village's top cop for nearly 10 years, was fired Friday after a months-long suspension.
The dismissal stemmed from a lengthy U.S. Justice Department investigation and followed a series of Miami Herald reports about alleged misspending of millions of dollars received through a federal forfeiture program. The Justice Department also alleged that alleged Hunker abused his position for personal benefit.
Hunker will receive a payout of about $115,350, plus six months of health insurance. He is in the last year of a contract that pays him a base salary of $155,600 a year, and provides him with an SUV, health insurance and a pension.
Hunker will collect a monthly pension benefit of $3,339.82, with an automatic escalator of 2 1/2 percent each year. As of December 2012, Hunker had received about $43,442 in retirement benefits deposited into a deferred savings account that he can only access after retirement.
Hunker already receives a pension from Miami Beach, where he was a police officer for 28 years.
Hunker created the Tri-County Task Force narcotics unit in 2003, that brought Bal Harbour at least $7.3 million in three years. Its detectives investigated money laundering and drug trafficking far outside the borders of Bal Harbour, a relatively crime-free, oceanside town of about 2,500 people.
Federal investigators say village police misspent that money on unjustified overtime and lavish travel, and improper payments to confidential informants. The money also went to cover salaries and benefits for two undercover investigators working under contract in California and Florida's west coast, and to purchase expensive toys: $100,000 for a police power boat; $225,000 for a sleek surveillance truck.
As a result of the questionable spending , Bal Harbour was suspended from the forfeiture program, and the feds demanded the village return more than $4 million...
(click pic to continue reading)