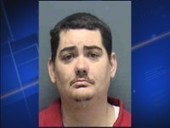 CAPE CORAL, Fla.- On Sunday at 10:00 p.m., William Douglas Adams reported to Cape Coral Police that while he was walking through the Big John's parking lot, he was robbed by two suspects. Adams' story was even was featured on television by a local news outlet where he discussed being robbed of his rent money.
Cape Coral Narcotics Detectives were familiar with Adams however, as he has been the target of an ongoing investigation. At the time of Adams' alleged robbery, Detectives had already purchased cocaine from him and were building a case for a search warrant.
Last night, Detectives again purchased crack cocaine from William Adams and he was arrested. The investigation was expedited due to the fact that Adams was preparing to move and the search warrant would not be possible...
(click pic to continue reading)