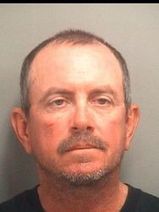 Marc S. Smith, 50, of suburban Jupiter was booked into the Palm Beach County Jail on Saturday on a charge of cruelty toward a child for a December incident in which he punished a young boy after he refused to finish his breakfast of freshly hunted squirrel soup and vomit.
The alleged child abuse incident took place Dec. 23. Smith made breakfast for a young boy, whose name was not released in a Palm Beach County Sheriff's probable cause affidavit. The meal — freshly hunted squirrel soup — was placed in a bowl for the boy. The boy was ill and began "violently" coughing, causing him to vomit into the soup bowl.
The vomit angered Smith, who then told the boy to finish the remaining soup and vomit.
The boy refused to do so, which angered Smith even more. Smith took off his belt and hit the boy with it, the affidavit says. Out of fear of what other punishment he might receive, the boy ran to a neighbor's home where he later spoke with deputies...
(click pic to continue reading)