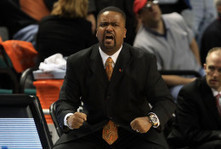 COLUMBIA, Mo. (CBSMiami) – Missouri Tigers Head Coach Frank Haith, Louisville Cardinals Associate Head Coach Clint Hurtt, Western Kentucky University assistant basketball coach Jake Morton and two other former University of Miami coaches have received notices of allegation from the NCAA for their alleged part in the Nevin Shapiro scandal.
The NCAA noted in the notice of allegation it also delivered to former UM coaches Aubrey Hill, Hurtt, and Jorge Fernandez provided misleading information during the investigation and all three are accused of violating "principles of ethical conduct."
The charge against Hill, Hurtt, and Fernandez are commonly known as NCAA Rule 10.1 and would carry the stiffest penalties.
According to Dennis Dodd of CBSSports.com, Haith faces a failure-to-monitor charge for his time at UM during the Shapiro scandal. Haith told reporters Tuesday night the he did not face an unethical conduct charge...
(click pic to continue reading)