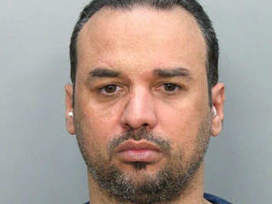 MIAMI -- A manhunt is under way for a prisoner convicted of violent sexual assaults who stabbed one of two police escorts and escaped in the Dallas area as he was being transferred from Florida to Nevada, police said Tuesday.
Alberto Morales, 42, stabbed the officer once in the neck and three times in the back Monday night outside a Walmart in Grapevine, police said. Grapevine Police Sgt. Robert Eberling said Morales is believed to have used his eyeglasses in the assault.
Miami-Dade Police Detective Jaime Pardinas, a 54-year-old who has been on the force for 28 years, is in serious but stable condition.
Pardinas and Detective David Carrero were scheduled to fly with Morales to Nevada, where he was to serve a sentence of 30 years to life for a conviction of sexual assault with a weapon. But the officers and Morales weren't allowed to get back on the plane during a layover in Texas because of the inmate's erratic behavior, authorities said.
During the first leg of the flight, Morales was "bumping his head against a passenger seat in front of him, so he was doing a lot of crazy, unusual things that just disrupted the entire flight," said Miami-Dade Police Director J.D. Patterson Jr.
Miami-Dade Police Deputy Director Juan Perez said that it is out of the ordinary, but that airlines occasionally ask officers and their escorted inmates to leave because of liability issues.
The detectives were then forced to rent a vehicle at Dallas-Fort Worth International Airport with the intention of driving the nearly 1,200 miles to their destination. Miami police said there are clear policies about transporting inmates across state lines, but didn't discuss details other than to say two officers must be present.
The officers stopped to use the restroom at the store late Monday night and were waiting for a third officer to meet them to help with the rest of the trip. While Carrero was inside the store, Morales got hold of a sharp object, stabbed Pardinas and fled, authorities said...
(click pic to watch video)