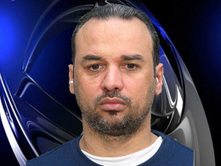 MIAMI (CBSMiami) — A Florida prisoner being flown to Nevada has escaped in the Dallas area after stabbing one of his Miami-Dade police escorts.
Miami-Dade Police detectives Jamie Pardenas and David Perrero were escorting Alberto Morales,42, to Las Vegas when they had a layover Monday night in Houston. Morales, who had served time in Miami for assault, burglary and sexual assault charges, was being transported to Nevada to face charges for crimes he committed there.
Miami-Dade police Director J.D. Patterson said Morales was disruptive on the flight and the officers were informed he would not be allowed to board another flight. Pardenas and Perrero decided to rent a car and drive to Las Vegas, nearly 1,200 miles away.
During a stop at a Walmart, Morales somehow got a sharp object and stabbed Pardenas four times, three times in the back and once in the chest when Perrero went into a store...
(click pic to watch video)