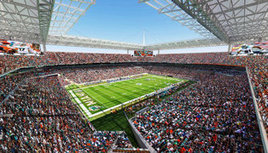 Sen. Oscar Braynon, the Miami Gardens Democrat sponsoring a bill to bring Sun Life new state and county subsidies, will change the proposed legislation to require a countywide vote on the plan, a source familiar with the Dolphins' lobbying efforts said. The Dolphins and County Mayor Carlos Gimenez plan to announce the referendum agreement Monday, sources said.

The Dolphins hope to get the issue before voters by May 22, when the NFL is expected to pick the host city for the 2016 Super Bowl. The Dolphins have cited that game, the 50th in NFL history, as the reason to push for a quick decision on tax dollars to pay for about half of a proposed $400 million renovation.
By agreeing to a referendum, the Dolphins would test the lingering backlash against the 2009 deal that gave the Florida Marlins a new ballpark largely funded by taxpayers. The Dolphins see their plan as more palatable, since Dolphins owner Stephen Ross has agreed to use private dollars to pay for at least $201 million of the project, with state and county funds paying for no more than $199 million.
The money would come from a $3 million state subsidy for Sun Life and increasing the county's tax on mainland hotels to 7 percent from 6 percent. The Dolphins have proposed the same hotel-tax hike in prior years. A Miami Herald poll in November found 84 percent of respondents were against spending tax dollars on the stadium, but that was before Ross' pledge to use private dollars for a majority of the work...