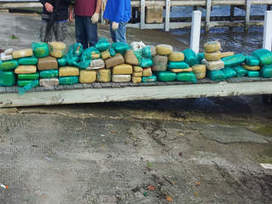 WEST PALM BEACH, Fla. - The United States Immigration and Customs Enforcement Homeland Security Investigations directorate has confirmed an investigation into a drug bust at Currie Park in the 2400 block of North Flagler Drive.
Law enforcement sources told WPTV NewsChannel 5 that approximately 1,000 pounds of drugs were seized.
A spokesperson for the Town of Palm Beach Police Department said a marine officer spotted a boat around 9:30 am.
The boat was docked at the Currie Park marina and had been reported stolen, the spokesperson said.
Law enforcement sources said three people were arrested...