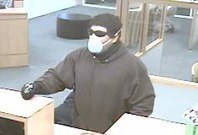 AUBURNDALE, Fla. —Auburndale police are searching for a man who robbed a TD Bank Tuesday morning.
Officials said a white or Hispanic man entered the bank on Highway 92 with a small handgun.
The man left the bank on foot with an undisclosed amount of money, a release said.
Investigators said as he walked out of the bank he threw a smoke grenade into the bank causing it to fill with smoke. Authorities said there were no injuries...
(click pic to continue reading)