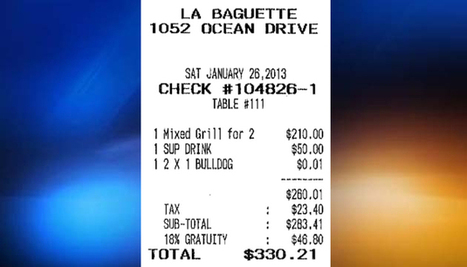 MIAMI BEACH - A $330 meal at a South Beach hotspot has made two women believe the restaurant is intentionally overcharging its customers.
"We want everyone to know this place was a ripoff," said Miriam Perez. "We were scammed."
Perez and a friend told Local 10's Ross Palombo they went to La Baguette at 1052 Ocean Drive for lunch on Saturday, Jan. 26. The pair said they saw that most items on the menu were priced at around $20. Then, at the suggestion of the waitress, they ordered the special.
When the bill finally came, the special alone was $210, the drinks were $50, and the included tip was $47.
Others have taken to a review web site to complain about similar issues. On Yelp, one person posted a warning of "Don't do it!" because of the prices. Another called it "trickery..."
(click pic to watch video)