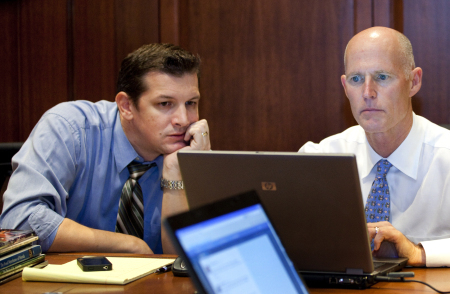 TALLAHASSEE — Brian Burgess, the combative communications director for the Republican Party of Florida, is returning to the private sector less than five months after taking over as the party's top communicator.
Burgess would not return emails or telephone calls, but was shown the door at the party after he did not answer questions from the Tampa Bay Timesabout a rescued Labrador retriever adopted by Gov. Rick Scott.
Scott publicly adopted the dog during the 2010 campaign and held a contest to name it — people chose Reagan — but Scott returned the dog shortly after taking office in 2011.
The resulting publicity outraged animal lovers across the state who accused Scott of adopting the dog as a campaign gimmick.
He has a history of clashing with reporters — in public and in private — and was once called "an aggressive knife-fighter" by a prominent Florida communications consultant.
In the case of Reagan, Burgess said he was working on answer to a reporter's questions but never provided one...
(click pic to continue reading)