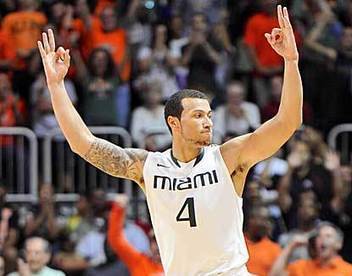 CORAL GABLES, Fla. -- Blowout wins in the Atlantic Coast Conference are becoming routine for the Miami Hurricanes. This time their fans didn't even bother to storm the court.
Trey McKinney Jones scored 15 points Sunday to help the ACC leaders win their seventh game in a row by beating archrival Florida State, 71-47. The postgame celebration was more subdued than when No. 25-ranked Miami drubbed No. 1 Duke on Wednesday, but the capacity crowd of 7,972 was hardly ho-hum.
The Hurricanes (15-3, 6-0) are assured of a significant jump in Monday's poll.
Miami cracked the rankings for the first time in three years Monday and is creating a buzz even in South Florida, where college basketball tends to draw little attention. The sellout was only the 11th in the Hurricanes' 10-year-old on-campus arena, but their second in a row.
The Hurricanes also had a 44-32 rebounding edge against the taller Seminoles and outscored them 15-2 on second-chance points...
(click pic to continue reading)