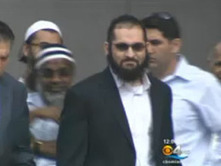 MIAMI (CBSMiami) – All federal charges have been dismissed against a Muslim cleric from Margate who, along with his father, was accused of providing financial support to the Taliban in Pakistan.
Following the conclusion of the prosecution's case on Wednesday, U.S. District Judge Robert Scola ruled Thursday morning that there was not enough evidence of wrongdoing against the 26-year old and threw out the charges.
Late Thursday morning Khan walked out of the federal courthouse in Miami a free man.
Khan is an imam at a mosque in Margate. He and his father, 77-year old Hafiz Khan, both pleaded not guilty in May 2011 to four charges of conspiracy and material support to terrorism, asserting they were sending financial support to relatives and friends in Pakistan who have struggled for survival — not to terrorists. Each charge carries a 15 year prison sentence.
Trial will continue for the elder Khan who is a cleric at a mosque in Miami because Scola said the evidence against him is much stronger.
Charges were dismissed last year against another son, Irfan Khan, because of a lack of evidence...
(click pic to watch video)