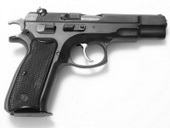 From Bloomberg News:
In Florida, Republican Governor Rick Scott hailed an incentive for the West Hartford, Connecticut-based Colt Manufacturing Co. in 2011 saying it showed the state was "a defender of our right to bear arms." The deal, for 63 jobs, was worth about $1.66 million in state and local incentives, according to Enterprise Florida, the state's economic development arm. The agreement penalizes the company $50,000 if it doesn't produce all the jobs.
Via Miami New Times:
So, let's get this straight? The company got $1.66 million in breaks to produce a couple dozen jobs, and if they didn't produce those jobs all they had to do was pay back $50,000? Yeah, sounds like a perfect deal.
Interestingly, not even all Republicans were on board with dolling out big tax breaks to gun manufacturers.

Florida state Senator Nancy Detert, chairwoman of the Commerce Committee, tells Bloomberg News that she doesn't want Florida to be known for gun manufacturing. She's busy crafting legislation that would make it harder to give incentives to companies that don't specialize in science and technology in response...
(click pic to continue reading)