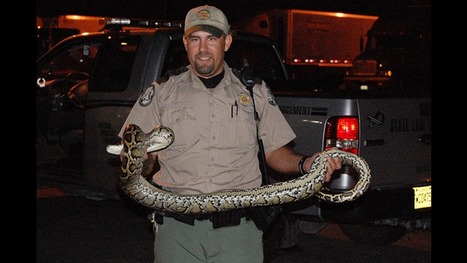 DAVIE, Fla. (AP) - Nearly 800 people signed up to hunt Burmese pythons on public lands in South Florida, the first time the public is joining licensed hunters in the search for the invasive snake.
The Florida Fish and Wildlife Conservation Commission is holding a month-long "Python Challenge" and offering cash prizes to whoever brings in the longest python and whoever bags the most pythons. Twenty-eight python permit holders and 749 members of the public signed up for the first-ever python challenge, state wildlife officials said at its event Saturday at the University of Florida Fort Lauderdale Research and Education Center in Davie.
Hunters from more than 30 states will need to harvest the well-camouflaged Burmese python, which can grow to more than 17 feet long in the wild in Florida. Competitors can win prizes of up to $1,500, the commission said. The hunt ends at midnight Feb. 10.
The Burmese python is an invasive species that experts say is decimating native wildlife in the Florida Everglades. Florida currently prohibits possession or sale of the pythons for use as pets. Federal law bans the importation and interstate sale of the species...
(click pic to continue reading)