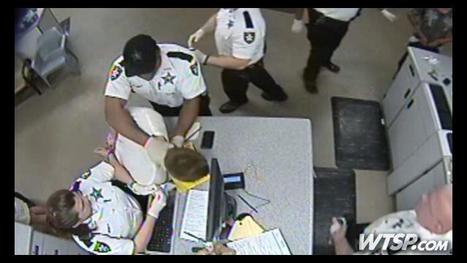 St. Petersburg, Florida -- Surveillance video was released showing the incident that cost a Pinellas County deputy his job last year.
Desmond Quinn, 40, was fired in October after an internal investigation was conducted over an attack on an inmate.
Sheriff Bob Gualtieri says its one of the more blatant violations regarding use-of-force that he's seen in his career. Video from inside the Pinellas County Jail shows 22-year-old David Fowler being booked for a DUI arrest. The Citrus County resident complained to Quinn about pain from the handcuffs, and that's when the video shows Quinn wrap both hands around the young man's throat, smash his face into the counter and then slam him into the floor.
Quinn worked at the Sheriff's Office for five years. Before that, he spent 13 years with the Florida Department of Corrections. But this was not the first time Quinn was in trouble for roughing up people under arrest. He was suspended and went through re-training for appropriate use of force in 2010 after he tipped over the wheelchair a belligerent suspect was sitting in as he was being booked into jail...
(click pic to watch video)