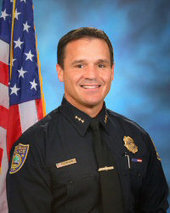 Now cops are close to implementing a high-tech system that could prevent incidents like that July 3, 2011 crash. In an interview with Riptide, Miami Beach Police Chief Ray Martinez said the city had reached an agreement with the police union to activate GPS trackers already installed in cops' squad cars.
Last month, Riptide revealed the expensive stand-off between the City of Miami Beach and the Fraternal Order of Police over the use of GPS trackers (called AVLs, or "automated vehicle locators").
The technology, which cost over $500,000 to install on more than 350 city vehicles, had yet to be activated in police patrol cars because of cops' concern that their home addresses could wind up in the hands of public-records-savvy criminals.

Martinez said an agreement has been reached with the union, and he expects to sign the deal this week or the next.
Under the deal, Miami Beach police officers' cars locations will be recorded 24/7. However, GPS data from within a three-mile radius of a cop's house will be exempt from public record requests...
(click pic to continue reading)