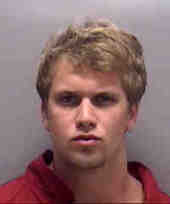 A former local high school football star was jailed after a New Year's Day stabbing. We found out what happened with the former standout.
Police says former Fort Myers High School tight end Stephen Plein stabbed a man and then waited 30 minutes before calling 9-1-1 to turn himself in.
Plein stood out on the football field - so much so the 6'6'' 240-pounder committed to the University of Miami on an athletic scholarship back in 2009.
Four years later, the 21-year-old posed for a mug shot after Sanibel Police say he stabbed a man in the stomach with a pocket knife early New Year's morning.
Cops say the incident happened on the beach near Sanibel Island's Sundial beach resort.
Plein does not currently play for the Hurricanes football team. He suffered a career ending knee injury before ever playing a down in college...
(click pic to watch video)