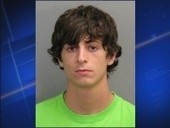 ROTONDA, Fla.- Charlotte County Sheriff's deputies arrested a Rotonda West man who was screaming and yelling in the street Monday morning, then attacked deputies. He bit one deputy, and was taken to a hospital and held overnight. Paul Eggers Greene was charged with Battery on a Law Enforcement Officer, Assault on a Law Enforcement Officer, Resisting Arrest with Violence and Disorderly Intoxication.
CCSO deputies responded to a call, just before 4:30 a.m., of a man in the area of Caddy and Oakland Hills roads wearing only shorts and socks. When deputies arrived they found 18-year-old Greene jumping up and down, screaming, yelling and waving his arms. Deputies said Greene was yelling he was Jesus and everyone was coming to get him. Deputies believed he was under the influence of some type of drug due while exhibiting an excited delirium type of behavior.
As the deputy approached, Greene ran at him in an aggressive manor flailing his arms; he was told to stop and he did, then staring with a blank stare. Then, Greene rushed at the deputy again in full aggressive sprint and a Taser was deployed; Greene fell to the ground. He immediately began flailing his arms and legs attempting to strike the deputy. In an attempt to gain control of Greene, hebit the deputy on the leg and refused to let go. Another deputy used his Taser and Greene released his bite. In an attempt to handcuff Greene and obtain his wallet for identification, he rolled over and kicked at deputies; a Taser was used for the third time. Greene continued his violent outbursts causing scrapes and abrasions to his knees, feet, elbows and shoulder...
(click pic to continue reading)