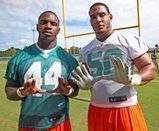 Shortly after the 2012 NFL Draft, UM instituted a policy that limits contact between football players and their families with agents until an athlete's eligibility expires. The policy stipulates that players who retain eligibility and desire to speak with an agent or other "covered individuals" can do so only on campus in the presence of the head football coach and/or athletic director.
Players who run afoul of the rules could face penalties that include game suspensions and removal from the football team. The sanctions would be imposed by the university and not the NCAA, which does not restrict contact between agents and athletes as long as impermissible benefits are not involved.
But what is acceptable for the NCAA is now against the rules at UM.
UM deputy athletic director and chief operating officer Steve Waterfield, who helped formulate the policy, said the regulations are not related to the early departures last season and "have no connection whatsoever with the current NCAA inquiry" involving rogue booster Nevin Shapiro.
Instead, Waterfield and other UM officials said the policy was implemented "to limit distractions" caused by agents contacting draft-eligible players and to make sure those players and their families receive sound advice.
"Our goal was to make sure our student athletes can focus on the two things they need to make sure they're focused on — academics and athletics — and not to find ways to keep them here at the university," Waterfield said.
But according to Darren Heitner, a Miami-based attorney and founder of the Sports Agent Blog, no school has a policy as "far-reaching" or restrictive as Miami's.
"I'm not a fan," Heitner said. "To say that this rule was put into place to protect the players, I think that's being disingenuous because the only way to protect the players is to educate them. For any university that's based on education, you don't inhibit players from learning. That's what this rule does. It says, 'We want you to not even begin to think about your professional future until your eligibility has expired.' "
Heitner said UM's policy is rooted in the university's aim to show the NCAA that it's doing everything possible to avoid future violations more than an attempt to protect athletes.
"It's a self-interested rule, point blank," Heitner said...
(click pic to continue reading)