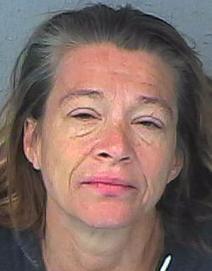 A Spring Hill woman faces a charge of abuse after a 9-year-old child ate a piece of crack under her care, according to the Hernando County Sheriff's Office.
Kimberly Losurdo, 45, of 11233 Riddle Drive, is charged with child abuse. She is in the Hernando County Detention Center with her bond set at $5,000.
About 1:30 a.m. today, Hernando County Fire Rescue responded to a residence in Spring Hill in reference to a 9-year old child who was having convulsions and losing consciousness, the sheriff's office said.
The child was taken to a local hospital where blood tests found cocaine in the child's system, the sheriff's office said. The child was then taken out of county for advanced care and hospital staff called the Department of Children and Families.
The child said an "irregular shaped, rock like" substance was found in the bathroom and they ate it on Christmas, the sheriff's office said. Soon after, they became ill and started vomiting and deteriorating slowly.
DCF removed three children — ages 9, 11, and 16 — from the home, according to the sheriff's office. The child in question is expected to make a full recovery...
(click pic to continue reading)