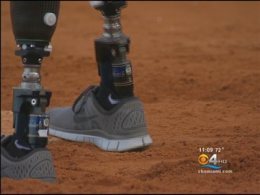 MIAMI (CBS4) - You might call them a team of heroes. Members of the Wounded Warrior Amputee Softball Team all lost limbs while serving overseas, but that didn't stop from becoming first class athletes, and this weekend you can see them play right here in South Florida.
This weekend the Miami Dade Police Department is hosting a tournament for the team. It kicks off at 10 a.m. Saturday at TropicalPark. The team will take on the University of Miami Baseball Team at 7 p.m.
The highly skilled players are chosen from all over the country. And travel year-round. On the practice field they look like any other softball team, but the bond among the ballplayers goes beyond their love of the game.
Each player on the Wounded Warrior Amputee Softball Team served in either Iraq or Afghanistan and each has a permanent reminder of his sacrifice...
(click pic to watch video)