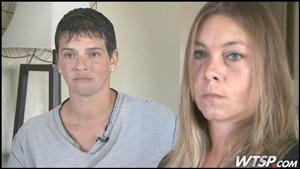 St. Petersburg, FL - It may be legal in Florida to discriminate because of sexual orientation, but a pair of lesbian women in St. Pete are hoping their unexplained firings get the attention of federal investigators.
Life partners Melissa Dulude, 38, and Mandie Bryan, 31, filed EEOC complaints against Jacaranda Manor last week, alleging the Kenneth City nursing facility discriminated against them because of their sex and sex stereotypes, a violation of the Civil Rights Act of 1964.
The life partners say from their first day on the job this summer, managers at Jacaranda Manor made comments about their presumed relationship, even though they didn't disclose it. They were told they couldn't work on the same floor, and even though they had no interaction at work, the comments persisted during their two-month employment there.
Both Delude and Bryan maintain they never received any warnings or indications about any problems on-the-job, and their near-simultaneous firings instantly reeked of discrimination.
But because Florida law doesn't prohibit discrimination based on sexual orientation, the women fear their options for recourse may be limited. They say they plan to file a civil lawsuit against Jacaranda Manor at the very least...
(click pic to continue reading)