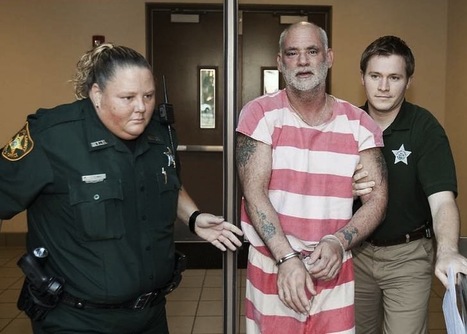 OCALA – Richard P. Braccia, 50, of Silver Springs Shores, is charged with three counts of attempted murder on a law enforcement officer, domestic battery and tampering with a victim. Based on the severity of those charges, and a criminal history involving two DUIs in the 1980s in New York and a shoplifting charge in the 1980s in Ocala, the judge denied bond for Braccia.
While Braccia said he doesn't remember much about the incident, he said he remembers this much: He was drinking for roughly four hours. He said he has been a New York Giants fan for roughly 30 years and was upset that the Washington Redskins had beaten his team during the Monday Night Football game.
Shortly after midnight Tuesday, Braccia's wife called 911 saying her husband was battering her. While talking with a dispatcher, she said he was in a bedroom loading his firearms, described as an AK-47, a shotgun and a 9mm handgun.
According to reports, Deputy Matthew Bowers arrived at the couple's home and talked with the woman outside, then entered the home. Braccia came out of a room and fired several shots from a handgun at the deputy, who ran for cover.
A second deputy, Eduardo Bustamante, arrived. Thinking his colleague was inside, he went into the home. He also was greeted with gunfire and ran for cover.
Shots also were fired at a third deputy, Daniel Barker.
Deputies said Braccia also fired shots out the front and back of the residence.
During a stand-off, the Sheriff's Office Special Weapons and Tactics team was called. Using their armored Bearcat, they evacuated more than a dozen neighbors from area homes and set up a perimeter around the home...
(click pic to continue reading)