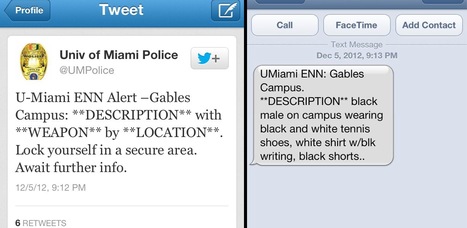 The University of Miami proves once again -- whether it's a violent felon and Ponzi schemer preying on student-athletes or an allegedly armed suspect roaming the campus -- they cannot protect their students and they suck at social media.
The above image on the left was a tweet sent by the University of Miami Police Department last night with none of the information filled in. It appeared as though it was a test or transmitted in error; particularly because the previous tweet in their timeline, from October 3rd, was identified as a test: "@UMPolice: This is a TEST tweet sent by the UMiami Emergency Notification Network (ENN). Go to http://www.miami.edu/prepare for more info. This is only a TEST"
Last night's @UMPolice tweet was never corrected or updated. An hour later, they followed up with: "UMiami ENN: ALL CLEAR Gables Campus. The emergency incident has been resolved. Resume all normal campus operations."
The image on the right was a text/email alert sent to students by the university administration that only described a "black man on campus," with no further info. Later, UM alerted students that there was an "armed" suspect on campus, but that was false.
Via CBS Miami:
Thursday morning, the University issued a statement clarifying what happened:
"Last night, University of Miami Police responded to a laptop theft on campus. Both subjects fled and one was later apprehended in the perimeter. In an attempt to quickly notify the campus that a suspect was at large, an active police perimeter was being set up and that people should find a secure location/avoid the area, an incomplete University ENN (Emergency Notification Network) alert was initially distributed. The University regrets the error. Police are still investigating..."
(click pic to continue reading)