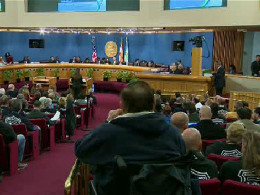 MIAMI (CBSMiami) – It's the way all commission meetings have started in Miami-Dade for the last eight years.
"Would everyone stand for a moment of silence," the commission chairperson announces.
Now that moment of silence may no longer golden. Tuesday during an hour long debate the county agreed 8 to 3 to bring prayer back.
Against the ordinance was Sally Heyman. She told her colleagues, "I have no choice but to vote against this."
Heyman quoted Thomas Jefferson maintaining government and religion should be kept separate.
"It is discriminatory and unfair to members of this community who we all represent to be subjected to a religious point a view to which they may disagree," Heyman said.
Eight of her colleagues though, including newly elected commission chairwoman Rebeca Sosa, disagreed. The law passed with a couple of guidelines including whoever leads the prayer cannot reference a particular religion.
"We don't want to see someone coming in front of the commission preaching, in favor of a specific religion. So, we need to have a controlled environment," Sosa explained.
"You could call it the first amendment, sort of? CBS4′s David Sutta asked. "That's right," Sosa confirmed...
(click pic to watch video)