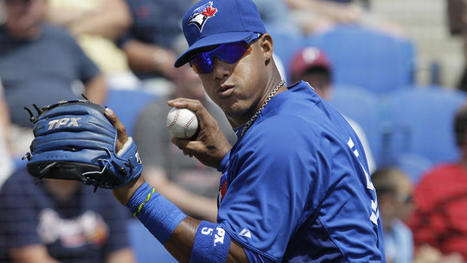 Yunel Escobar's stay with the Miami Marlins lasted all of two weeks.
The payroll-slashing Marlins dealt the shortstop and his $5 million salary across Florida to the Tampa Bay Rays on Tuesday night for minor league infielder Derek Dietrich.
Escobar's departure drops the Marlins' projected opening-day payroll to a major league-low $38 million, which includes $4.5 million owed Toronto next year, $1.5 million due to Arizona in 2013 as part of the Heath Bell trade and $1 million to account for a prorated share of Bell's signing bonus.
Combined with the Toronto trade, the Marlins have pared $151.5 million in payroll from their books in recent weeks, just two months after finishing their first season in a new ballpark built with taxpayer money.
Right-hander Ricky Nolasco, the team's highest-paid remaining player with a salary of $11.5 million next year, would prefer to be traded, too, agent Matt Sosnick said Monday.
Acquired in the 12-player trade that sent Jose Reyes, Mark Buehrle and Josh Johnson to Toronto on Nov. 19, the 30-year-old Escobar batted .253 last season with nine homers and 51 RBIs...
(click pic to continue reading)