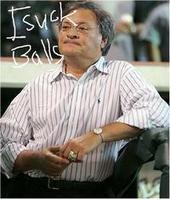 Three years ago nine Miami-Dade County Commissioner voted in favor of the Marlins Stadium deal, and to no one's surprise a few of them regret the decision. The Herald's Barry Jackson called up eight of the nine, and asked them how they feel about the deal now. Commissioner Javier Souto didn't mince words. He called Marlins owner Jeffrey Loria a man who only cares about money who should get out of town.
"I told [former Miami-Dade County mayor] Alex Penelas years ago when I met Jeffrey Loria: 'This guy only cares about the money, not us, not the county, not the people.'" Souto told Jackson. "There were so many promises about all the things that would be happening around the stadium, in Little Havana, and I haven't seen anything."
"This was a convoluted, complicated deal that Burgess concocted and only he understood. He promised us it was the best deal.... Now, we're close to a total boycott of the team. The best thing that could happen is for this ownership group to get the hell out of here for the good of the community..."
(click pic to continue reading)