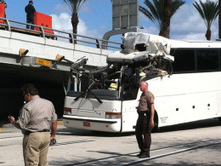 At least two people are dead and three more are in critical condition after a private tour bus carrying 31 mostly elderly passengers smashed into an overhang at Miami International Airport Saturday morning.

Of the 31 passengers aboard the bus, one man died at the scene while another man died at the hospital. Both were elderly.

The 29 surviving passengers were taken to the hospital. Many of those hurt suffered "major injuries", said Greg Chin, airport spokesman.

Chin said the bus was scheduled to travel to West Palm Beach. Just before 8 a.m., the large, white bus approached the arrival area, apparently to drop off passengers.

Traveling at about 20 mph, the 10- to 11-foot-tall bus moved into the area, with the top of the bus striking the airport building's eight-foot-six-inch iron overhang.

TheMiami Bus Service Corporation, the Miami-based company which operates the bus., scored a 92.2 percent in the fatigued driving category, which means it exceeded the federal safety threshold based on roadside data or it has been cited with one or more serious violations in the past year...