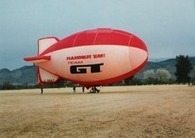 Boca Raton millionaire Marty O'Boyle doesn't like politicians scandalizing up his county, dag gummit.
So he's doing what any millionaire with loads of time on his hands would do to combat such a thing: He's going to fly a big-ass blimp over Palm Beach County to shame elected officials when they screw up.
O'Boyle has bought himself a 94-foot blimp that will carry 40-foot-tall messages and fly it over the county should a state senator or state attorney decide it would be a good idea to use public funds to get themselves a hooker.
This isn't the first time ole Marty has done this kind of thing. He once flew an airplane banner over the Palm Beach County skies, calling Sheriff Ric Bradshaw a crook and former State Attorney Michael McAuliffe a putz.
But airplane banners aren't good enough anymore. So O'Boyle ponied up $200,000 for a hot-air balloon that was originally used for Amazon rainforest inspections. He's just waiting on approval from the Federal Aviation Administration...
(click pic to continue reading)