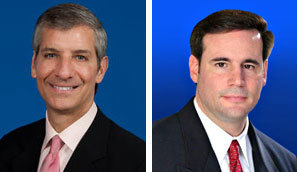 MIAMI (CBSMiami) – A pair of Miami commissioners and a mayor have been cited by the county's Ethics Commission for violations.
On Tuesday the Miami-Dade County Commission on Ethics and Public Trust found 'probable cause' that Commissioner Frank Carollo exploited his official position when he called Miami police Chief Manuel Orosa after he was pulled over for a traffic violation in Coconut Grove last August.
The Ethics Commission determined that Carollo may have used his position to influence police officials, which is a violation of the Conflict of Interest and Code of Ethics Ordinance.
Also taken to task by the Ethics Commission was Miami Commissioner Marc Sarnoff who was accused of failing to properly disclose a gift.
Sarnoff traveled to Brazil for activities associated with the Volvo Ocean Race at the stop prior to the race's arrival in Miami last May. The Greater Miami Convention and Visitor's Bureau reimbursed Sarnoff for all of his expenses...
(click pic to continue reading)