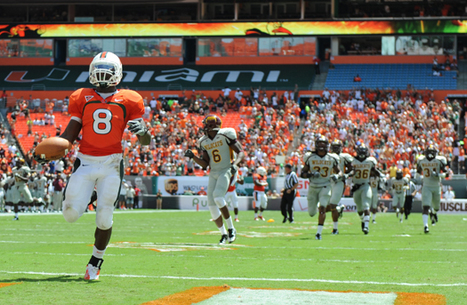 Miami running back Duke Johnson and Florida State cornerback Ronald Darby have been honored as the best rookies in the ACC, according to a vote of 46 members of the Atlantic Coast Sports Media Association.
Johnson was named the overall and offensive rookie of the year while Darby won the defensive rookie of the year.
He became the first Miami player to win the rookie award after he broke Clinton Portis' 13-year-old school rushing record for freshmen, ending the year with 947 yards. He also led the ACC by averaging 33 yards per kickoff return, and his 2,070 all-purpose yards are the most by a Hurricanes freshman and second only to Willis McGahee's 2,108 in school history.
"It means a lot being the first in Miami history to win this award," Johnson said in a prepared statement. "And it means so much to me and the team because I couldn't do it without my teammates. And this is just another way to make my mom proud and show how I really appreciate the sacrifices she made for me when I was younger..."
(click pic to continue reading)