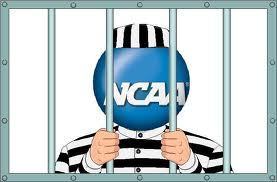 CBSSports.com's Bruce Feldman spoke with a compliance expert Wednesday morning who has worked on several NCAA investigations that have involved multiple major violations about the letters:
"I've never heard of anything like this before," said the source. "This seems like a total bullying tactic and sounds like a desperate move. They're basically saying they're taking the word of a billion-dollar ponzi schemer over some guys who may have taken a few steak dinners? It looks like the NCAA has spent a ton of money and time investigating this and they're trying to cover their investment."
"Players still in school have an obligation to cooperate. Those not in school had an obligation to play by the rules when in school, and to cooperate. In these circumstances, I don't think treating silence as evidence of complicity is overreaching, at least as a general matter.
Former NCAA infractions committee chairman Jo Potutuo replied in an email that she doesn't believe the NCAA overreached on its power in this situation:
"The enforcement staff has given notice to the players and former players that it will allege silence is evidence confirming case of violations . Ultimately it will be up to the Committee On Infractions to decide if silence should be so treated on the specific facts of particular players and former players and the overall case."
The letter does seem to indicate some level of desperation by the NCAA in the Shapiro case. The NCAA was alerted to widespread extra benefits violations by the former booster and began investigating in February 2011. Yahoo! Sports exposed the extent of the violations in a series of stories last year. The investigation is ongoing. The school this week removed itself from bowl consideration for a second consecutive season in order to mitigate future NCAA penalties...