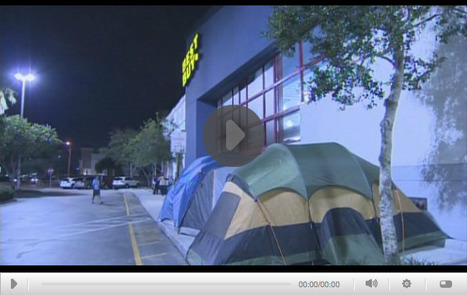 PEMBROKE PINES, Fla. (WSVN) -- The dash for deals is starting early this year, but some who set up tents to camp-out in the name of a good bargain have been forced to leave.
Monday morning, at a Best Buy In Pembroke Pines, police forced several men who had pitched tents on Saturday to pack up. They told them the earliest they could return would be Wednesday.
The Pembroke Pines Best Buy was not the only Best Buy with eager Black Friday shoppers. Over the weekend, would-be shoppers at a Best Buy in Fort Myers set themselves up with televisions and even dinner tables. "We've pretty much gone from not sleeping in a tent to a tent and slowly progressed to where we've got everything that we remember we need," said Sean Kelley, who is ready to have his Thanksgiving feast in line. "On Thanksgiving, mom comes out with the china and the plates, and we've got everything you have on a normal Thanksgiving table..."
(click pic to watch video)